One of my biggest supporters has always been Dr. Nancy Menk, director of choral organizations at the famous St. Mary's College in South Bend, Indiana. Nancy has commissioned works from me both for her college choir and her mixed choir, the South Bend Chamber Singers. I have always been a great admirer of her musical wisdom, and her amazing dedication to her craft and to the people she leads.
Recently the St. Mary's College Women's Choir went on a tour of China. This wasn't your usual tour- Nancy did the research and work to make it special. They traveled to Nanjing and did collaborative work with the Nanjing University women's choir there. They rehearsed together, presented concerts together, and shared world views with each other. You can read
the blog the students wrote
about this experience by clicking here. It's fun reading.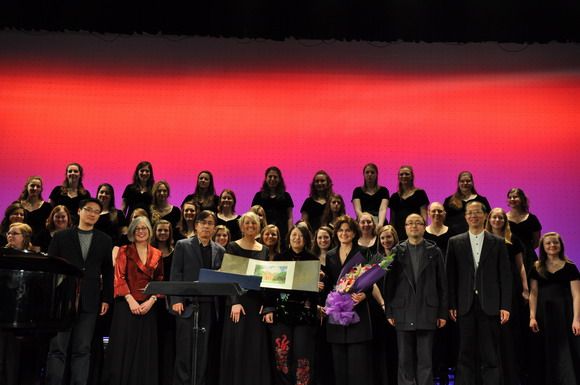 Wow- now that's a curtain call glow. Nancy is there holding the big bouquet of flowers
When the tour came to an end they gave a homecoming concert back at St. Mary's. Nancy worried that the choir would be jet lagged but I told her, I'm sure the adrenaline of a performance will see them through.
So Aidan (my fun-loving seven year old) and I took a mini road trip to Indiana. Aidan is all about road trips, even choir concert road trips with Dad, which you can read about (it is hilarious)
here
. I had two motivations for going- the first was the fact that the choir had taken my piece
"Winter Solstice" for SSA/harp or piano, published by Roger Dean
, on tour to China with them and they had added a solo dancer to the performance. I was quite intrigued by this presentation idea, and I was really looking forward to getting a chance to see this performance live. The second motivation was the fact that my new arrangement of the school song,"The Bells of St. Marys" (yes, that song, which you may know through the old Bing Crosby movie) would be performed at the end of the concert and I had yet to hear the new arrangement. In regard to this, I was very honored that Nancy entrusted me to write this piece. She wanted a new arrangement with piano, as they already had an a cappella version they had been doing for years. I felt this was a big task-- I needed to get this arrangement just right to do a famous school song honor. So I was looking forward, with crossed fingers, to finally hearing this sung by real people, not just as a Finale file playback.
So Aidan and I got to St. Mary's in plenty of time and we settled into our seats in the beautiful Loretto Chapel. Nancy and the singers entered and were greeted by very enthusiastic applause- it was obvious that the folks of St. Mary's were proud of them and glad to welcome them back.
The concert wound through some very nice repertoire by mostly living composers, including a very interesting Missa Brevis by Anna Cederberg, a Lux Aeterna by Michelle Roueche, and pieces by Ola Gjeillo and David Brunner. The Cederberg seemed to be the most interesting-- I sensed a nicely original "voice" and I would like to delve into this piece some more.
Then, after three very fresh and delightful Chinese folk songs the choir arrived at Winter Solstice. I settled into my seat just feeling very happy and curious about what would happen. The solo dancer, Jinqui Guan, a St. Mary's senior who is from China and will attend grad school at Harvard in the fall, took her place. The music started and the dancing was so beautiful and natural. Everything she did fit the poetry and my music so magically, that I found myself paying so much attention to the dancing that I was almost ignoring the music. But when I did refocus on the singing what I noticed was the most amazing phrase arc/line- Nancy and the choir had sung this piece enough times that they knew exactly how to nuance every phrase to its maximum expressiveness. I was just so happy to hear a piece of mine sung so artistically and in such a manner as to reflect, through beautiful phrasing, the beauty of the Southwest U.S. nature/winter solstice texts. I was moved deeply by the performance and even Aidan seemed really drawn in (you can't expect a seven year old to totally get all these things of course- he is pretty artistic but he's also about Pokemon and Yu-gi-o card games too).
The concert then finished up and I just had to thank everyone involved. I told Nancy that I thought it was the best St. Marys College Choir concert I had ever heard. I profusely thanked Miss Guan (it turns out she has training in traditional Chines dance, as well a ballet and modern), and also their amazing new pianist Allison Secaur. Allison rocked the entire night- whether it was subtlely nuanced music like Winter Solstice or great gobs of notes like in Stephen Paulus' "I cannot Dance, O Lord", which was also on the program. I hope Nancy can keep Allison in this position for a long time, she is one of the finest choral accompanists I have ever heard.
The singers were all happy-- I know they were tired but it was obvious that they were so proud of what they had accomplished in their travels to China and proud of their homecoming concert at St. Mary's. I was also really pleased that the dean and the president of the school were there wearing proud smiles and came and chatted with me. It's so wonderful to see their support of what Nancy has been doing at St. Mary's for the last twenty-six years. And I as well am proud to call Nancy a good friend and very proud of how she has shaped so many of the lives of her students. She has also been a true leader in the advance of women's choral music in the US over the last twenty-five years. She's been there from the start when this movement to elevate women's choral music to a high level of artistry began. And, as a composer, I truly appreciate how she and others like her have encouraged gifted composers to set quality poetry for this voicing.
Here is a video an audience member posted to youtube of the Winter Solstice performance- yes, I know a gentleman's head is partly in the frame! I believe the college will have an official video out soon.
Thanks for reading,
Paul
PS The "Bells of St. Mary's" arrangement was sung beautifully as well. Aaron Copland let me borrow a few very American harmonic ideas (think "Our Town") that help express emotions of love, fellowship and reminiscence. I am very happy with what I wrote for them- something that hopefully will touch the hearts of singers and alums.